"…Two Thirds Sky's continued professional development provided a creative space to find new connections and compliment my practice." 
- Dance artist, International Summer Programme 2016 
Join Two Thirds Sky throughout August for a series of exciting open level contemporary dance classes on Zoom. The sessions are geared towards those with some dance experience and will work through dynamic and full-body phrases that build into longer sequences. 
Lead by AD Lisa Risdale, we ensure that the material and the environment is a safe and welcoming space for everyone, and encourage dancers online to work with their own bodies and adapt movement to the space that is available.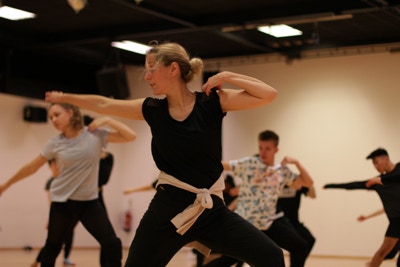 Mondays 19:00 - 20:00 (starts 3rd August) 
Contemporary Technique
Log-on and Warm-up from 18:45
This Contemporary class will draw on TTS's unique style to test your dynamic strength, use of breath, and a fluid articulation of the spine.  
Thursdays 19:00 - 20:00 (starts 6th August) 
Urban Contemporary
Log-on and Warm-up from 18:45
A high-tempo contemporary class with flavours taken from commercial jazz and other forms. It works your cardio strength, co-ordination and rhythm.
Classes cost £5 per session, and must be booked in advance by emailing info@twothirdssky.co.uk
All session will be delivered by ZOOM, so you'll need a compatible device and a safe place at home to take part.